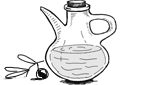 Hot pepper sauce
Hatay Hot Pepper Paste is prepared as home style with Hatay peppers.
The most delicious olive oils are also blended with local spices that are naturally grown and carefully selected and collected in the Hatay region.
You can use it in all dishes, pastries, soups and various sauces.
For those who like local flavors, our homemade tomato paste varieties, which we offer with sweet and bitter options, add color, smell and flavor to your meals.
We recommend that you keep our paste types prepared without adding any additives in a cool environment.
OTHER OUR PRODUCTS