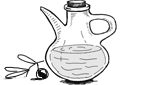 Spice
Spices are very effective in making local delicacies as well as making our meals very tasty. Spices that add flavor to the dishes also decorate our kitchens for decorative purposes by using them with seasoning sets.
Red pepper : It is made by drying and flaking sweet fresh peppers.
Cumin: It is generally used in powder form. It is used in Turkish cuisine, meatballs, some meat dishes and sausage making.
Sumac : It is used by pulverizing. It has a sour taste. It is used for souring kebabs and some salads.
Sesame: It is used in bagels and similar various pastries or for making tahini.
Cinnamon (stick): Used in some cakes, salep, biscuits, milk desserts and beverages.
Cinnamon Powder: The stick is in the cinnamon.
Black pepper : It is a shrub from conifers that does not shed the leaves of summer, winter, has a fragrant, blackish, rounded fruit. It is used in poultry meat cooking and resting meat.
Isot: The fresh form of isot, also known as Urfa pepper, has the appearance between bright red capia pepper and red bell pepper. In addition to its bitterness, it stands out with its dominant sweet aroma.
OTHER OUR PRODUCTS